| Preview | Product | Storage Tank | Review | Price |
| --- | --- | --- | --- | --- |
| | Rubine 933 Black/White Instant Water Heater with Shower Holder Set | No | 4.9 | Check Price |
| | Ariston Storage Heater Andris2 RS 30 Liters | Yes | 4.9 | Check Price |
| | Toshiba DSK33S5SW Instant Electric Water Heater | No | 5 | Check Price |
| | Panasonic Standard Electric Water Heater DH-3RL1SW | No | 4.9 | Check Price |
| | Mistral Instant Shower Heater [MSH303i] | No | 4.9 | Check Price |
| | 707 Kensington 35L Storage Heater | Yes | 5 | Check Price |
| | Stiebel Eltron Tankless Heater – Tempra 12 Plus | No | 4.6 | Check Price |
| | Champs City Instant Water Heater with Shower Holder Set | No | 4.9 | Check Price |
| | Toshiba Electric Instant Water Heater with Digital Temperature Display | No | 4.9 | Check Price |
| | Mistral Instant Water Heater Copper Tank MSH708 | No | 4.5 | Check Price |
Water heaters are an essential appliance in any household. They can be used for daily household tasks such as showering, cleaning, cooking, laundry, and more.
However, shopping for a water heater in Singapore can be easily overwhelming for many people, with the variety of options and brands to pick from. Before you start looking, it's a good idea to familarise yourself with the different models of water heaters and whether they are suitable for your needs.
What to Look Out For in a Water Heater
Many people in Singapore go for electric water heaters, but this comes at the expense of operating costs due to the higher electricity demand.
Tankless water heaters are also a viable option, which provide on-demand heating without the need for a water storage tank.
Whichever model you pick, be sure that it has a high energy efficient rating, which you can usually find on the water heater product information page. You may also want to pick water heaters with good safety standards.
View the Best Water Heater Products in Singapore
If you are in the market for a suitable water heater, look no further as we've compiled a list of the 10 best water heater products in Singapore!
A stylish addition to any household, this instant water heater is designed for convenience and reliability. The built-in auto water flow sensor ensures that the water pressure is maintained during heating, automatically shutting off the power when no longer required to prevent scalding or over-heating. We find this water heater case especially well-built, coming in two colours: black and white. It's sure to fit into any bathroom!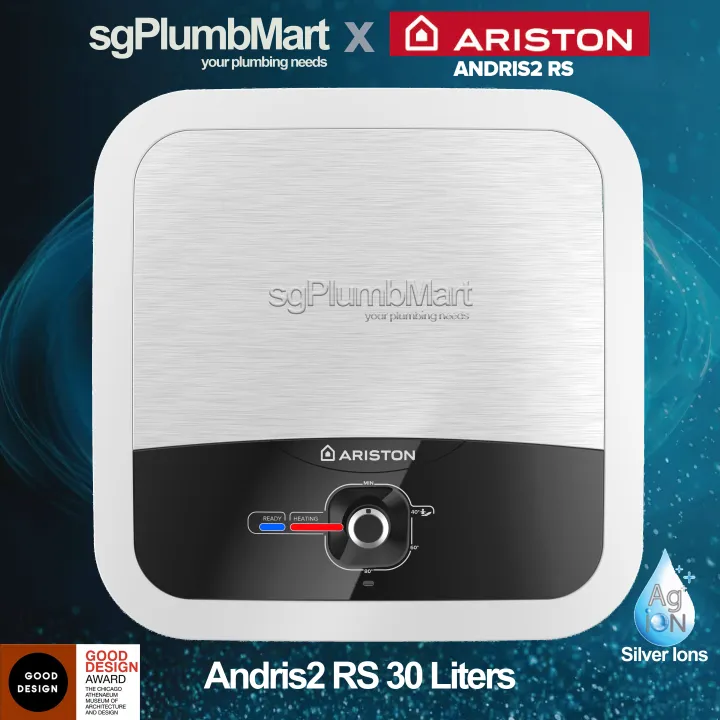 In a pinch for time? Get this water heater delivered to your doorstep within 24 hours! Featuring expert manufacturing from Vietnam, this water heater has a fairly quick heating speed, taking about 10 minutes for a single shower and 15-20 minutes for the full 30-litre tank.
However, some people may find the water heater rather bulky, especially if you have a small bathroom.
You can't go wrong with products from this brand. The double copper heating element will offer quick, thorough heating that ensures a steady stream of hot water while adhering to safety standards. An easy fit in this list, this instant heater product is a great value for its price.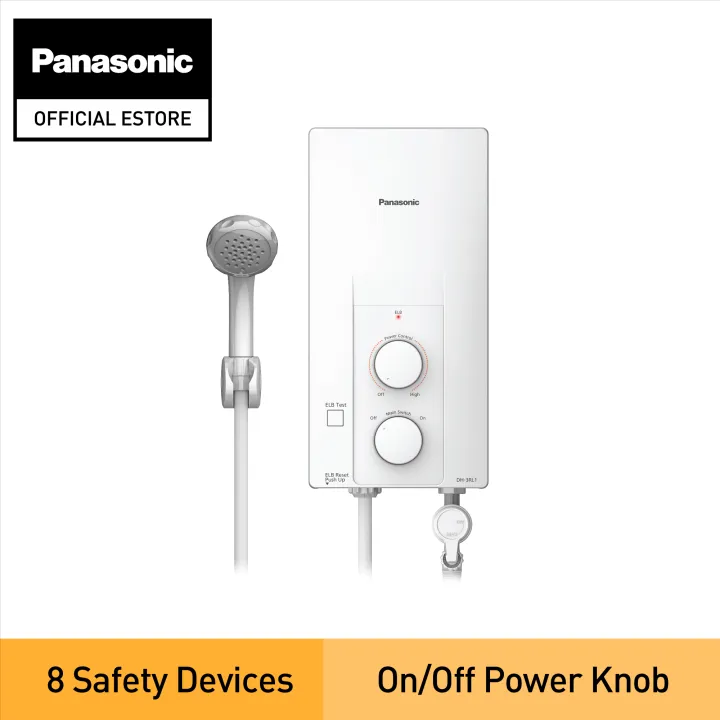 A popular Panasonic water heater in Singapore, this water heater featuers a 1-way shower head with a strong emphasis on safety. Its 8 safety points include a splash-proof cover, an insulated structure, non-flammable material compliance, a manual reset thermostat, a durable copper heating unit, a built-in earth leakage breaker, auto thermal cut-out and a water flow sensor. The Panasonic water heater incorporates technology from Japan to offer greater showering safety and comfort.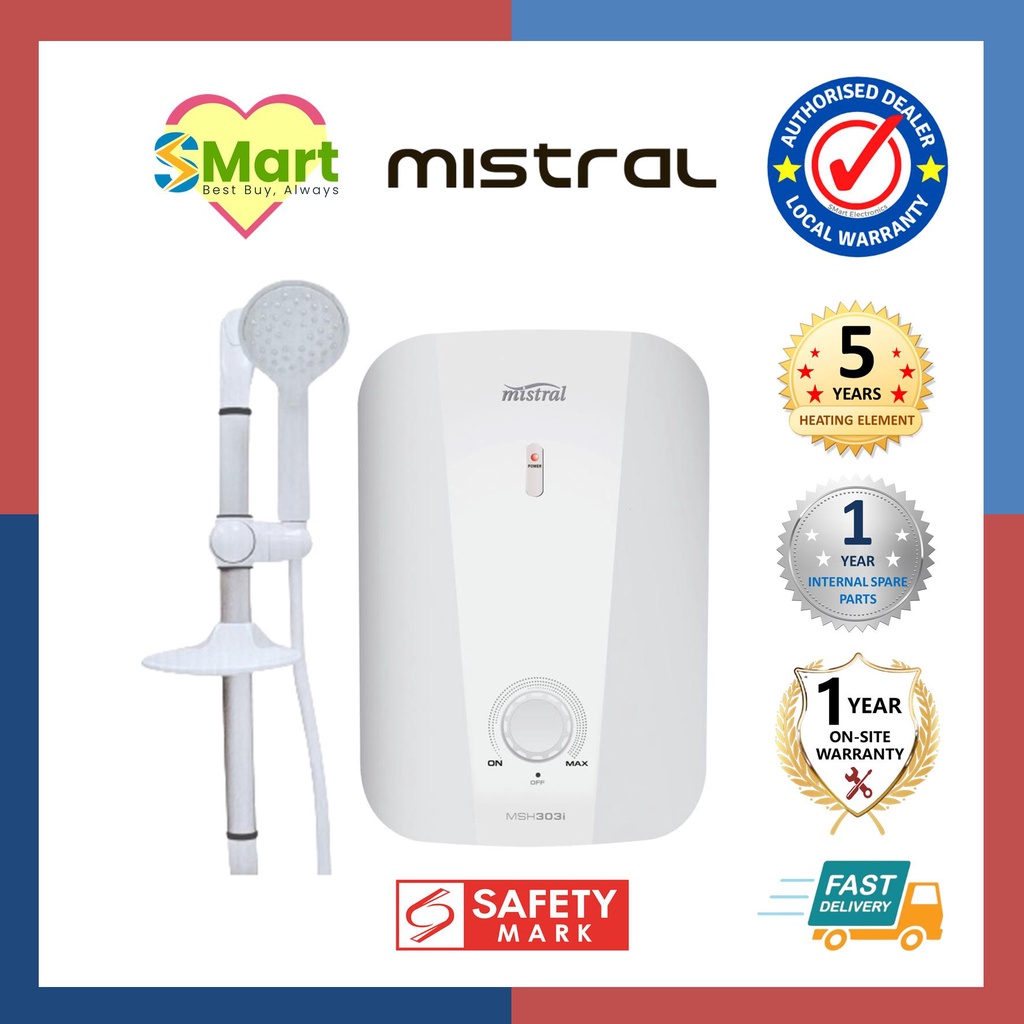 At a discounted price, this water heater is one of the best for households with its anti-scalding design. We highly recommend this water heater if you just need a functional, quick shower heater.
The only downside is its 5-year warranty for the heating element and 1-year warranty for the internal spare parts, which is not the longest among these products.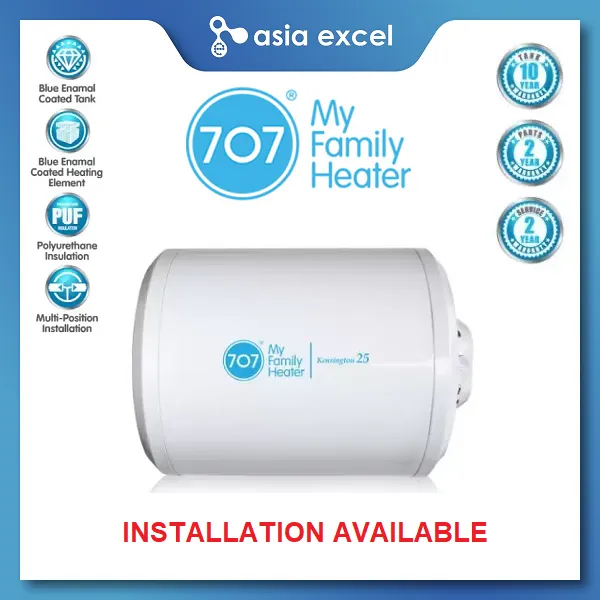 A local, home-grown brand, you can rest assured that the 707 Kensington is specially designed to suit the average Singaporean. Although it may be slightly on the higher price point, this long-standing water heater brand is well-loved by its customers for its manufacturing quality. The water heater operates silently, enabling you to enjoy a stress-free, relaxing hot shower.
Let's discuss the EuropAce Instant Shower Heater EWH 2100W. It's a fantastic option because it offers a special warranty for its heating element. Can you believe it? You won't have to worry about the heating element breaking down for a whole 5 years! This water heater also has splash-proof protection and a high-quality UK technology heating element with UL standard approval. It comes with double safety protection, including a built-in auto water flow-sensor device switch and an upgraded anti-scalding thermal safety design. The copper tank is of high quality and durable. Additionally, it has electronic variable power temperature control and is suitable for both high and low water pressure. The stylish black shower set adds to its appeal.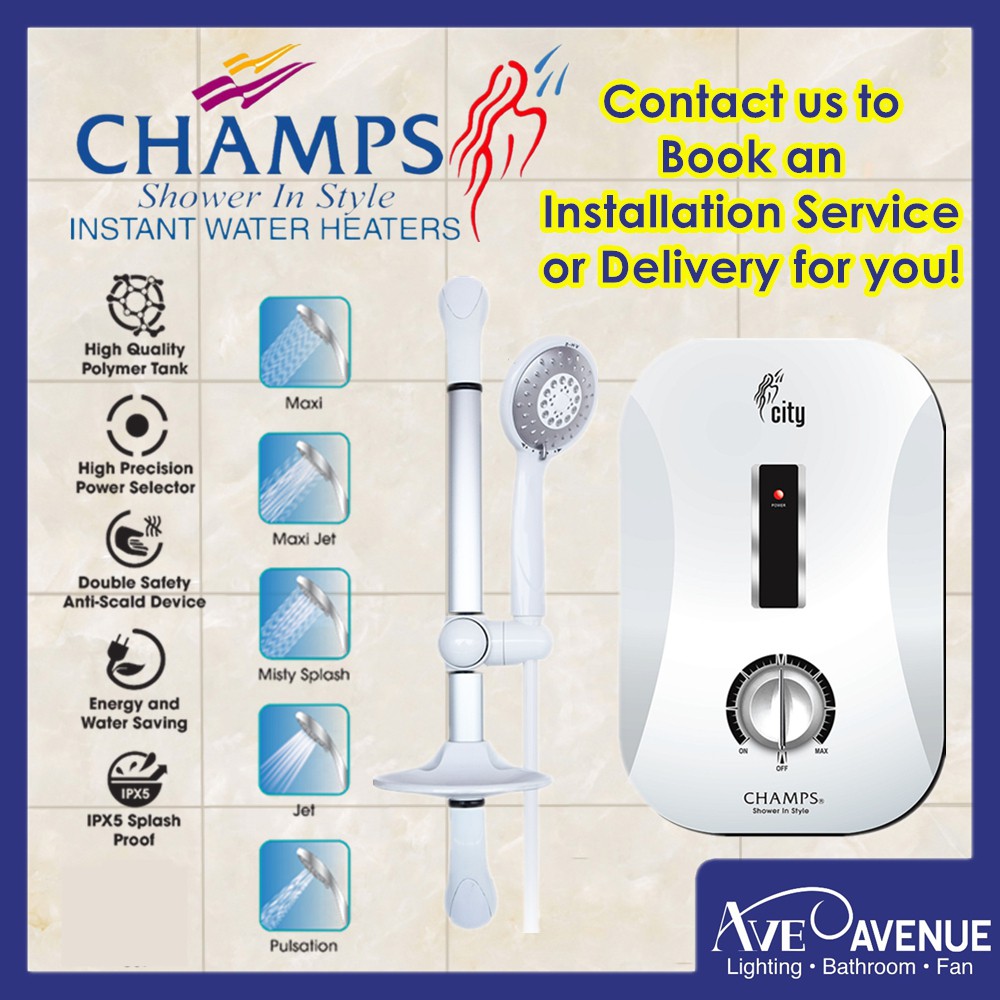 Shower in style with 5 different spray options to chose from! Most Champs heaters come with high-quality polymer tank to minimise heat loss, and this model is no exception. It also includes a premium chrome 5-way multi-massage shower set for the ultimate showering experience! Furthermore, you can cut down on your utility bills with a handy 3-in-1 stop valve that allowed you to control the water flow.
A notch up from the previous Toshiba model, this water heater features a digital temperature display that allows you to fine-tune the temperature. With heat temperatures ranging from 30-48 degrees, it's easy to get your hot water exactly the way you like it.
Another good Mistral water heater, you can enjoy on-demand hot water with this tankless water heater that saves you space and energy. As is the standard, the anti-scald device will ensure that every shower goes smoothly and safely for the whole family. This instant water heater is convenience at its finest!
Conclusion
Choosing a water heater is an important decision that will impact your household for years to come. With the many brands out in the market, it can be difficult to narrow your options down or even pick a suitable water heater out of the few you have shortlisted.
Remember to consider the key factors when picking a water heater, such as the number of people who will be using it, the amount of hot water typically used per day, the importance you place on warranty and after-sales service, and the ease of installation. Some water heaters may come with free installation, while others may charge a fee.
Hopefully, this list has helped to give you a view on the variety of water heater products and brands available!
Check out instant water heater vs storage water heater in Singapore
Check out Electric Heater vs Gas Heater