Did you know that there are currently over 100,000 wheelchair users in Singapore? This figure comprises of both seniors and people with disabilities.
There are a range of wheelchairs available depending on your needs. Most wheelchairs can be categorised into travelling wheelchairs, electric wheelchairs and commode wheelchairs.
Here are 10 of the best wheelchairs you can buy in Singapore!
| Preview | Product | Type | Review | Price |
| --- | --- | --- | --- | --- |
| | Foldable Lightweight Wheelchair in Singapore | Lightweight Wheelchairs | 4.8 ⭐ | Check Price |
| | Orion Neis lightweight electric wheelchair | Electric Wheelchairs | 5.0 ⭐ | Check Price |
| | Drive Electric foldable pma | Electric Wheelchairs | 4.0 ⭐ | Check Price |
| | Commode toilet wheelchair in singapore | Commode Wheelchairs | 4.9 ⭐ | Check Price |
| | Karman s-ergo 305q18rs wheelchair | Comfortable and Durable Wheelchairs | 4.3 ⭐ | Check Price |
| | Drive Medical TR39E-SV Lightweight Wheelchair | Lightweight Wheelchairs | 4.5 ⭐ | Check Price |
| | Drive Medical SSP118FA-SF Sport Folding Wheelchair | Lightweight Wheelchairs | 4.6 ⭐ | Check Price |
| | Falcon JRWD503 Dual Function Motorised Electric Wheelchair | Electric Wheelchairs | 5.0 ⭐ | Check Price |
| | BION iLight Wheelchair EZ 12.8kgs Cushioned Armrests Aluminium Foldable | Pushchair | 5.0 ⭐ | Check Price |
| | Falcon Foldable Aluminium Pushchair | Pushchair | 4.9 ⭐ | Check Price |
Wheelchairs from Shopee Singapore
Lightweight Wheelchairs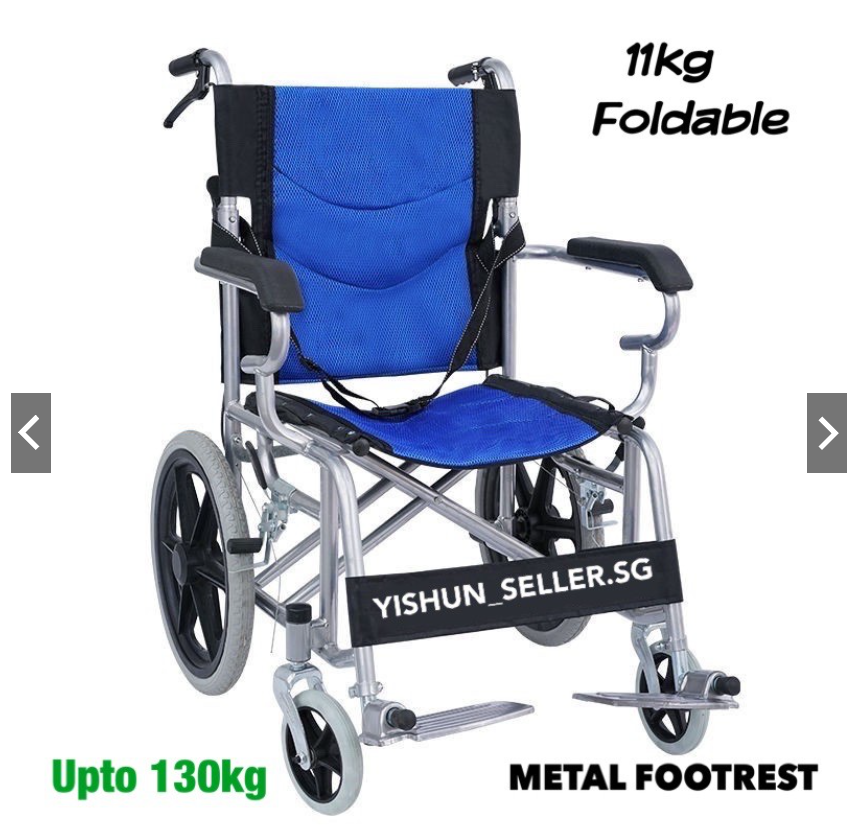 If you are looking for a sturdy and yet portable wheelchair, this may be the one for you. This wheelchair weighs only 11kg, whereas the average wheelchair weighs 15kg to 18kg or more. It is also foldable, which makes this wheelchair very easy to keep in the car boot or carry around.
At the same time, this wheelchair is extremely sturdy, with a weight capacity of 100kg. The footrests are made of metal alloy, a great material which is both lightweight and durable, unlike cheaper plastics.
Electric Wheelchairs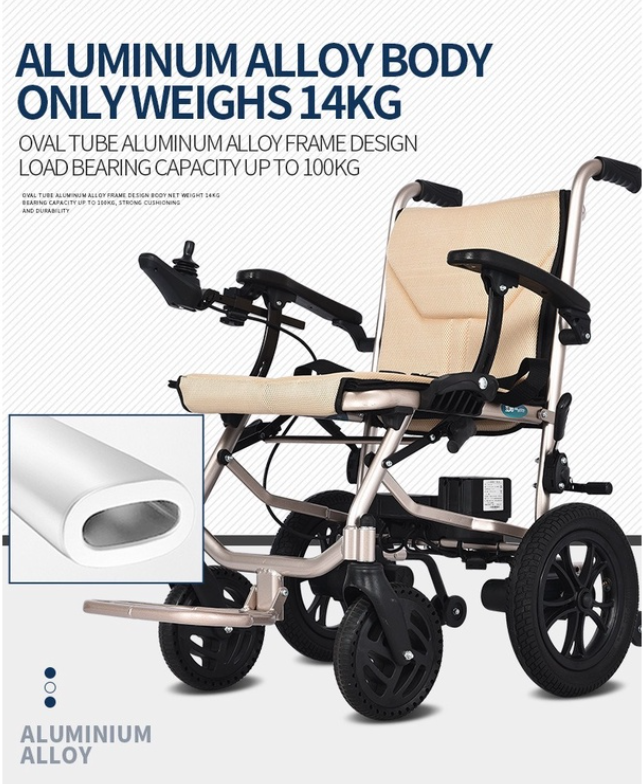 Not all users will have a permanent caregiver with them 24 hours a day. In this case, it is better to buy an electric one which will give them the autonomy to head out and move around independently.
This Orion Neis electric wheelchair comprises of a patented motor and 2 batteries. Each battery powers the wheelchair for 10km. The wheelchair runs at a speed of up to 6km/hr. It also has good safety features including an anti-skid wheel and a great shock absorption system. The maximum weight capacity is 200kg.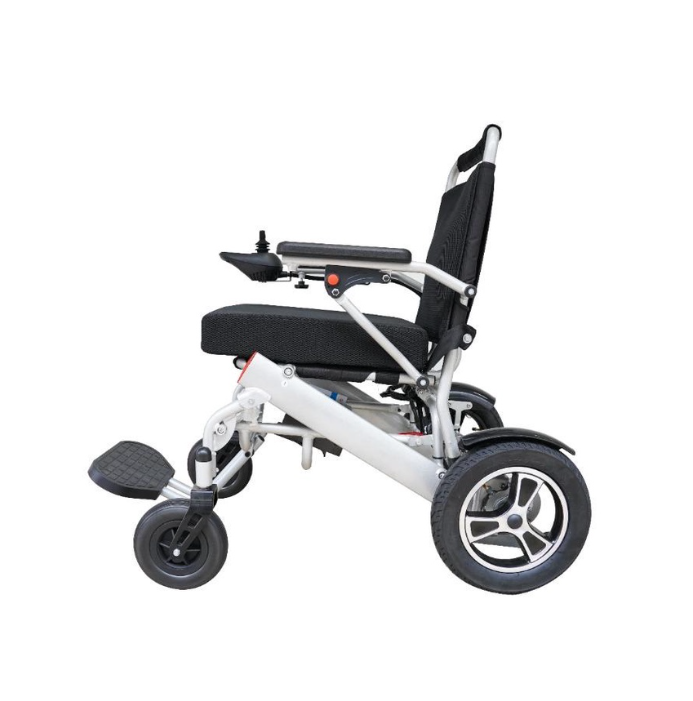 Want a wheelchair that's both portable and motorised? Drive Bikes offers a foldable motorised PMA that's made of lightweight and durable aluminium alloy. The vehicle's length and width are 102cm and 63cm respectively. However, it can be folded into a size of 85cm and 39cm respectively.
Test rides are available for this PMA at their physical store in Sims Place.
Commode Wheelchairs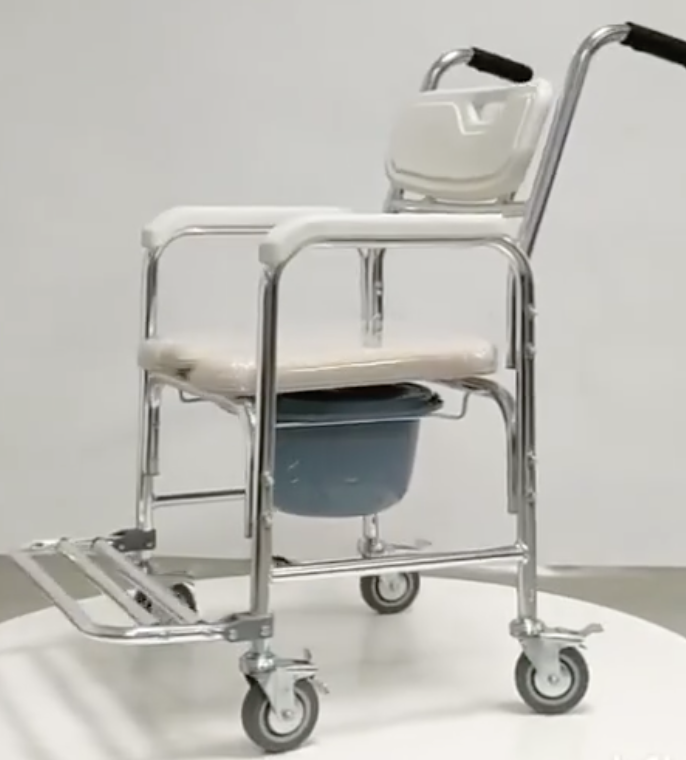 Not everyone has the same degree of mobility issues. For example, some people struggle to do basic activities independently. In such cases, you may need to buy a commode wheelchair.
A commode wheelchair comes with a toilet and can be used for showering and toileting. This commode wheelchair comes in two varieties. The O-shaped wheelchair has better leg support, while the U-shaped variation makes cleaning easier.
The wheelchair is able to bear a maximum weight of 136kg. Customers also love that this commode wheelchair is also extremely portable, with a net weight of 7.5kg. Its seat width is 40cm, with 48cm length and 96cm height.
Wheelchairs from Amazon
Comfortable and Durable Wheelchairs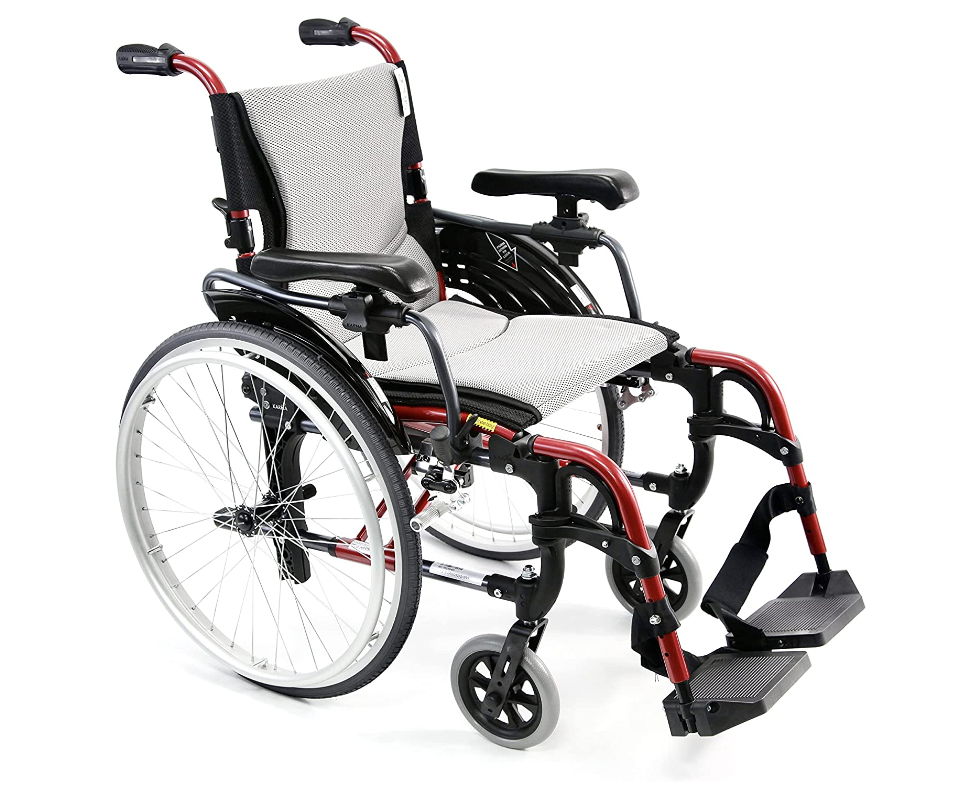 Looking for an ergonomic wheelchair? Karman Healthcare is an established brand that has launched this comfortable product that every user will surely love. Its backrest is designed according to the body's natural S-shape and curves. This helps to prevent the user from developing spinal issues such as scoliosis and pressure ulcers.
The armrest pads are wider than those usually available in the market for better elbow support. The armrest height is adjustable, and they can even be flipped back for better portability.
Lightweight Wheelchairs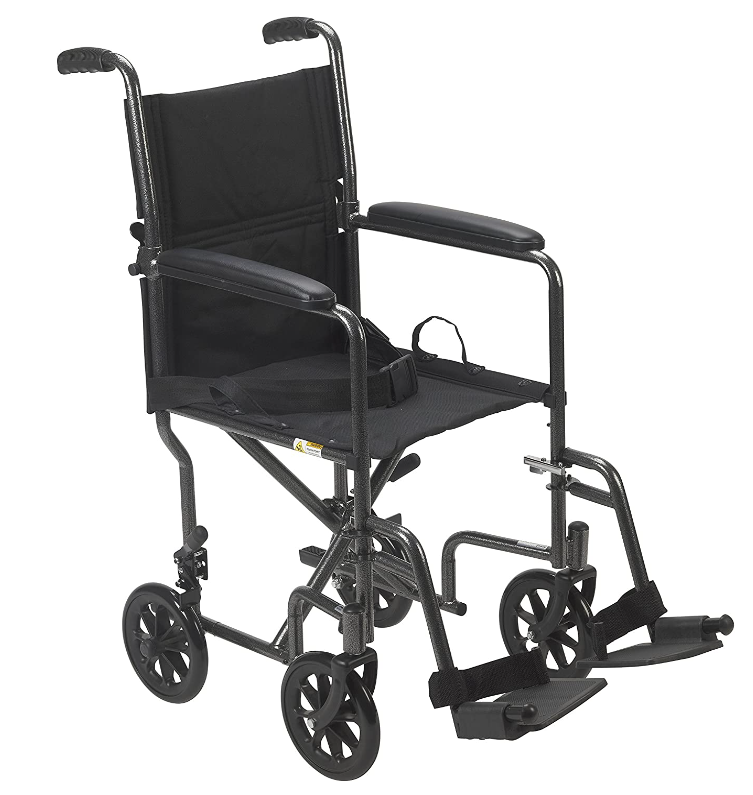 This silver and black variation comes at a low weight of 11.8kg. This is perhaps one of their smallest wheelchairs. The wheelchair spans 83.8 x 59.7 x 99.1 cm. At the same time, it is made of steel, which may not be as lightweight as some of the other chairs mentioned above, but is extremely durable.
The chair and backrest of this lightweight wheelchair can be closed in to manoeuvre in tight spaces. Similar to other Drive Medical products, their cushioned armrests, seats and swing away footrests ensure maximum comfort for the user.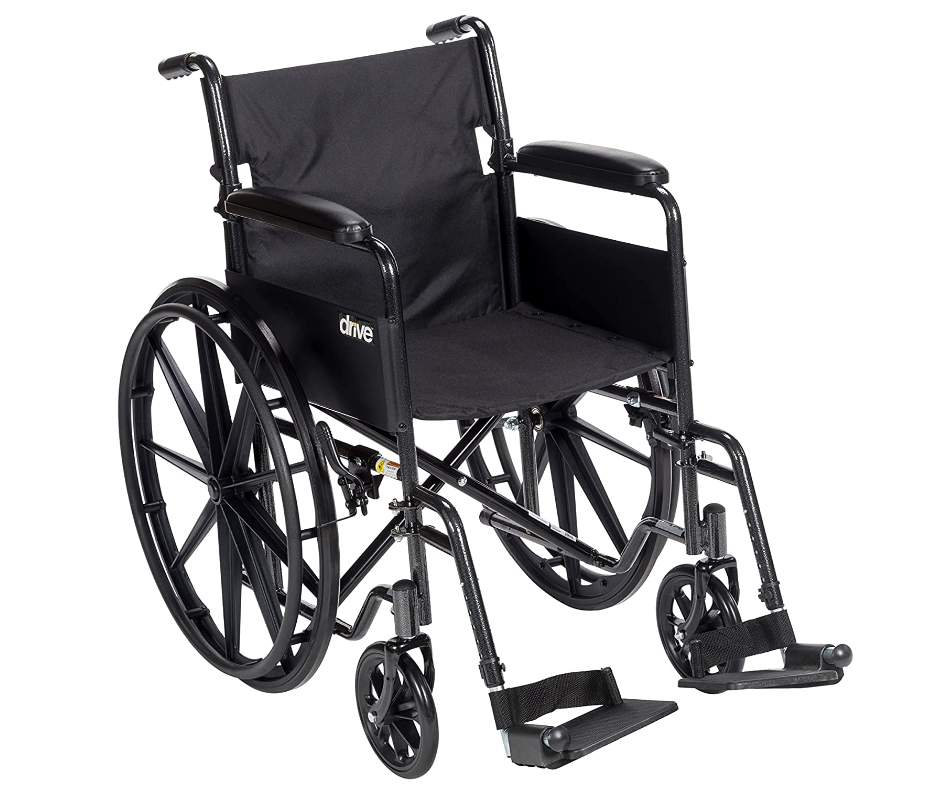 Durability and low maintenance are the main selling points of this Drive Medical wheelchair. The powder-coated silver vein steel frame prevents rust, while the nylon upholstery makes it easy to clean.
The urethane tyres are mounted on composite rear wheels with push-to-lock wheel locks. This makes the wheelchair highly functional and hardy.
To enhance portability, the footrests are made of lighter plastic. The seat width is 61 cm, while the length is 106.7 cm and the height is 91.4 cm. The maximum user capacity this powerful wheelchair can take is 113kg, slightly higher than its competitors.
Wheelchairs from Lazada
Electric Wheelchairs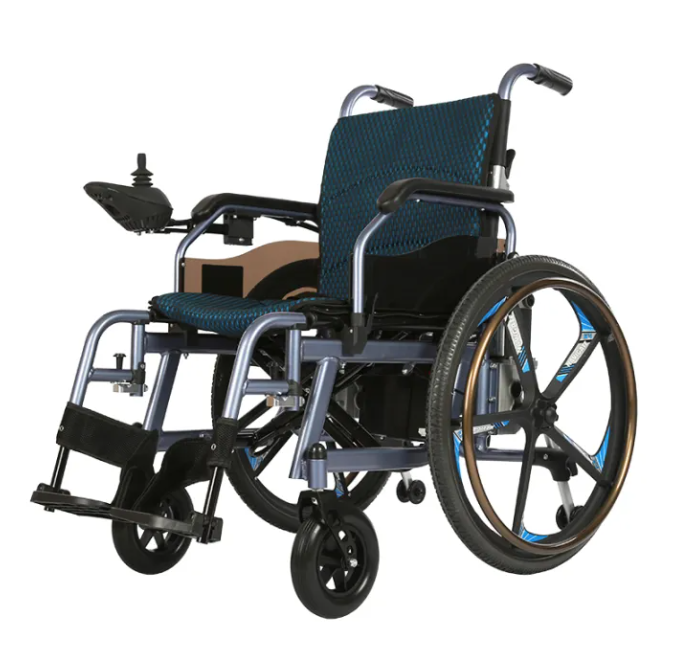 A motorised wheelchair is suitable for those who may not always have a caregiver by their side.
The Falcon JRWD503 complies with the Personal Mobility Aid (PMA) rules in Singapore. This product is sold by the official Falcon LazMall store, which promises reliable and authentic items to each customer.
Seniors can travel with ease using this dual functionality wheelchair, which can operate either manually or electrically. The frame is made of aluminium alloy which makes it strong yet lightweight. The large rear wheels and safety brakes also allow the user to navigate road bumps with ease.
Lightweight Wheelchairs
The BION iLight Wheelchair EZ is a lightweight and foldable wheelchair designed for hospital and elderly use. This wheelchair weighs just 12.8kg while supporting a maximum weight of 100kg. Its seat width is 45cm, with 43cm length and 47cm height above the ground. It features cushioned armrests for comfort, as well as a ventilated seat and height adjustable footrests for added convenience. The wheelchair also comes with a seat belt, user brakes, ankle straps, and protective side guards for safety. Additionally, the wheelchair has high quality casters, solid wheels, and rubber tippers for smooth operation and durability. It also has attendant brakes and carrying handles for easy transport. The foldable backrest allows for easy storage and the delivery time for this product is 2 – 4 working days. Purchase this product easily in Singapore through Lazada!
10. Falcon Foldable Aluminium Pushchair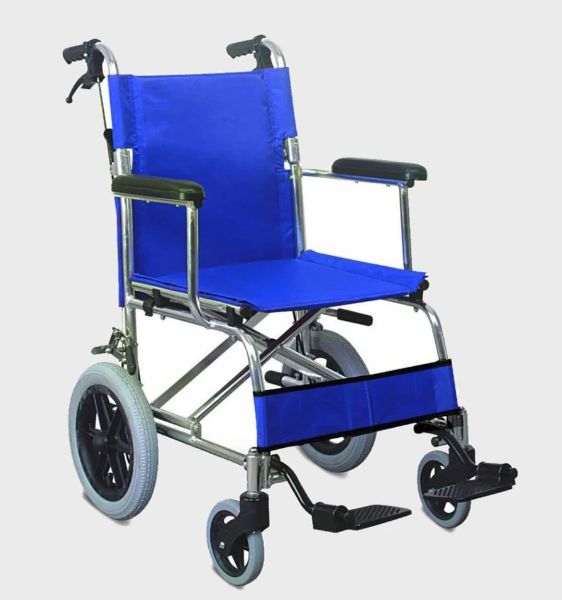 Want a light and compact wheelchair for daily use? The Falcon Aluminium Pushchair may be just right for you. It weighs just 9kg as well, and the backrest is foldable to easily fit into the car.
Another important consideration is that there are safety and convenience features such as a seatbelt and assisted brakes. Furthermore, there are plenty of glowing reviews by their customers in Singapore.
Check out 10 Best Shower Chairs in Singapore
Get Your Wheelchair Online
There are a wide range of affordable and high-quality wheelchairs in Singapore. Shop at the above-mentioned e-commerce platforms to find a wheelchair that suits both the user and caregiver's needs. You may also contact the local sellers for more assistance and information!